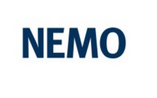 https://nemolighting.com/fra/fr/
Download :
https://nemolighting.com/fra/fr/downloads-2/
Nemo Lighting, est un nom de référence qui a ses racines dans une histoire d'innovations qui a toujours inspiré le design italien.
La marque réalise la collection Masters, une sélection unique de lampes conçues par les maîtres du XXe siècle tels que Le Corbusier, Charlotte Perriand, Nemo se consacre également à la création d'icônes contemporaines.
Nemo Lighting, is a name of reference that has its roots in a history of innovation that has always inspired Italian design.
The brand produces the Masters collection, a unique selection of lamps designed by 20th century masters such as Le Corbusier and Charlotte Perriand. Nemo is also dedicated to the creation of contemporary icons.
Nemo Lighting, è un nome di riferimento che affonda le sue radici in una storia di innovazione che da sempre ispira il design italiano.
Il marchio produce la collezione Masters, una selezione unica di lampade disegnate da maestri del XX secolo come Le Corbusier e Charlotte Perriand. Nemo si dedica anche alla creazione di icone contemporanee.